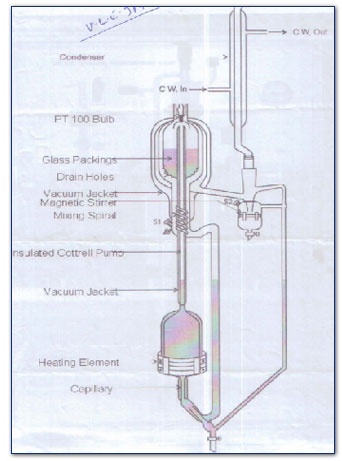 Vapor-liquid equilibrium data are the basic information of the system required for the design of equilibrium stages of vapor-liquid separation equipment like distillation. Equilibrium data represents the composition of the mixture in the vapor phase (y) and that in the corresponding equilibrium liquid phase (x) at equilibrium. The compositions are presented in mole fractions of the more volatile component. Equilibrium compositions are the functions of temperature and pressure. Therefore the data are reported under isothermal or isobaric conditions. However, isobaric data are required more often because industrial separations are carried out at constant pressure.
VLE APPARATUS:
With this precision equipment, it is possible to establish vapor-liquid equilibrium (Txy) which is most important data for designing distillation system.
This data can be encorporated to Simulators like Aspen.
With this equipment, VLE data can be generated at wide range of pressure from 1 torr to 760 torr.